Apartments are all self-contained. They each include two rooms, a kitchen and a private bathroom. They are perfect for couples, families or a group of friends. Each has single and double beds and we can accommodate most sleeping arrangements.
Each apartment is furnished with a variety of antiques and plants and has sunny windows that overlook Nerudova Street.
Nerudova emptys into a small square where there is a tram stop and several cafes and shops that lead you to Charles Bridge.
The opposite end of Nerudova leads up the hill to the foot of Prague Castle. Along this way there are numerous shops, restaurants and cafes. Further up you will find the beautiful Petrin Park that offers splendid views of Prague.
The Antique
This two room apartment is a step back in time. Each room is large and full of matching beautifully carved wooden furniture - including a dining table and two writing desks waiting for postcards home or that unfinished novel. The rooms are separate and private and each includes a double bed. And, of course there is a bathroom and full kitchen.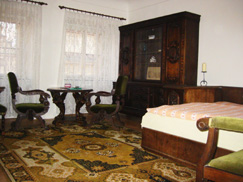 Antique has two adjacent rooms that both overlook Nerudova Street and Prague's Lesser Town.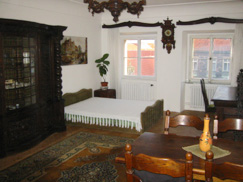 The Spranger Apartment
In the late 16th century, Emperor Rudolf II took up residence in Prague Castle and began to bring artists and scientists to Prague. One such artist was the Mannerist painter, Bartholomew Spranger, who took up residence in this apartment.
From the incredible parquet floor to the antique trunk, this apartment is full of character. The main living/bedroom is sunny and looks over Nerudova while the back bedroom has a window to the courtyard below.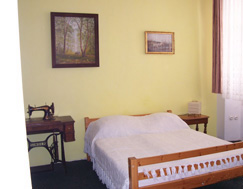 The Kepler Apartment
This apartment is on the third floor and is sunny and quiet. The spacious front room is furnished with antiques and has views of rooftop statues across the street. The back bedroom has one big double bed and there is a kitchen in a separate room.
The Kepler sleeps four comfortably and we can provide extra beds for a larger group or family.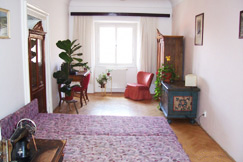 The Neruda Apartment
Named after Prague's famous writer, Jan Neruda, who once lived just up the street, this apartment has two rooms, a bathroom and a modern kitchen. The living room peers onto the cobblestones of Nerudova Street and the bedroom looks onto the courtyard below.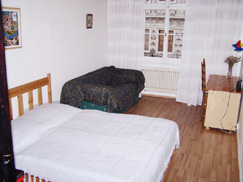 The apartment includes a full kitchen, dining area, television and washing machine.